FOR IMMEDIATE
WITH PICTURE
JANUARY 7, 2022


Kagem spearheads new transparency measure on tax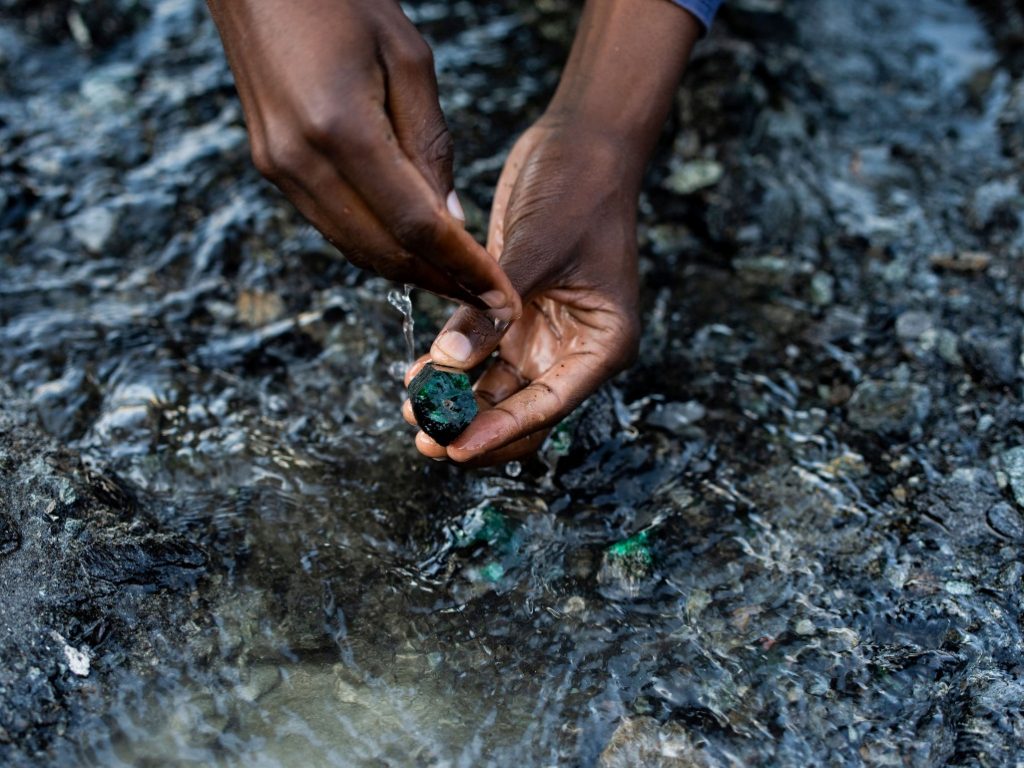 LUFWANYAMA, ZAMBIA – Gemfields, which operates the Kagem emerald mine in Lufwanyama, is inviting governance bodies, mining organisations, industry observers and host governments to adopt the 'G-Factor for Natural Resources', a new measure promoting greater transparency regarding the level of natural resource wealth shared with the governments of host countries.

The G-Factor for Natural Resources is intended to be an uncomplicated indicator of the percentage of a natural resource company's revenue that is paid to the host country government in primary and direct taxes, plus – where the host government is a shareholder – dividends. As such, it is an indicator of the share of natural resource wealth paid to a host country's government.

The G-Factor for Natural Resources is expressed as a percentage and is calculated by adding together mineral royalty tax, corporation tax and dividends paid by the reporting company to the host government. The total paid is then divided by the revenue of the company during the relevant period.

The G-Factor for Natural Resources takes its name from the "g's" in "government", "governance" and "good practice", with a passing nod to "Gemfields". It could be calculated by each company engaged primarily in the extraction and sale of natural resources, whether in the mining, oil, gas, timber or fishing sectors, amongst others. Accordingly, multi-national natural resource companies would publish the G-Factor for Natural Resources for each operating subsidiary engaged in the extraction and sale of natural resources.

In launching the initiative, Gemfields recognises that no measure of this type is perfect and explains the G-Factor for Natural Resources is a "rule-of-thumb" that has broad application but is not suited to every situation.

Kagem and Gemfields CEO Sean Gilbertson said:

"In an era witnessing significant strides in transparency and governance, and where extensive reporting on so many facets of corporate activity is already required in the annual reports of public companies, it is surprising that practical parameters allowing more direct insight into, and comparison of, the sharing of natural resource wealth still elude us. We invite collaboration, input and support for the adoption of the 'G-Factor for Natural Resources' as a step forward. We hope it will be voluntarily adopted by other companies, insisted upon by host countries and incorporated into projects such as EITI."

There are numerous additional and indirect taxes that are not included in the G-Factor for Natural Resources, but which further increase the contribution made to host nations by natural resource companies. Such taxes include area/surface charges, social security contributions, taxation on the salaries of employees, import and export duties and VAT. The variety and variations in natural resource deposits, types and occurrences lessens the ability to make direct comparisons between companies, said the company.

G-Factor for Natural Resources computations for Kagem emerald mine in Zambia, which is 75% owned by Gemfields and 25% by the Zambian Government's Industrial Development Corporation, is set out below:
Kagem Mining Limited
(Zambia), USD million
G-Factor (1 Year)
2020
G-Factor (5 Years)
2015-2019
G-Factor (10 Years)
2011-2020
Mineral Royalties Paid
1.4
25.2
41.4
Corporation Tax Paid
2.4
35.9
61.5
(C) Dividends to Government (if applicable)
0.0
8.5
12.5
(D) Total Revenue
27.7
294.4
626.2
G-Factor, being (A+B+C)/D
14%
24%
18%
* Notes:
Gemfields acquired a 75% interest in Kagem in 2008.

Kagem Chairman Dr Sixtus Mulenga summarised as follows:

"Transparency, legitimacy and integrity lie at the heart of Kagem's operations in Zambia. We are proud of our contribution to the national economy through the taxes and dividends we pay to Government, the foreign exchange earnings we create, and the local employment we generate. The G-Factor for Natural Resources is an easily understood way to measure that input and we urge other corporates in the extractive sector to support this initiative as it will go a long way in showing the contribution each mining company and as a group the whole mining industry sector makes to the long term sustainable economic development of the Zambian economy."
-Ends-


CONTACT

Enquiries
Gillian Langmead
Langmead & Baker Ltd
Tel: +260 979 060705
info@langmead.com

Head office
Helena Choudhury
Head of PR and Communications
Tel: +44 (0)207 518 3420
helena.choudhury@gemfields.com

Notes to editors
Kagem responsible sourcing highlights
Kagem is committed to ensuring that the community continues to benefit positively from its operations through various sustainability programmes focused on alleviating poverty and aligned with government policies, the UN Sustainable Development Goals (SDGs) and Vision 2030
The mine has spent more than USD 2.75 million on community projects, including:

Rehabilitation of the 18.7 km road connecting Chief Nkana and Chief Lumpuma's chiefdoms from Kandole to Kafwaya village in Lufwanyama district
Construction of the Nkana Health Centre
Construction and equipping of a new Chapula Secondary School
Construction of new buildings at Chapula Primary School
Building of teachers' accommodation at Kapila Community School
Support for the Blessing, Kapila Green Farms, Twende and Twasanta projects including distribution of farming inputs to Chief Lumpuma
Improvements to Chief Nkana and Chief Lumpuma's palaces
Support towards Covid-19 efforts including the donation of relief items to Nkana Health Centre and other health facilities in the Lufwanyama

Kagem's USD 345,000 industry training initiative is sponsoring 12 students from the geological and mining engineering departments at the School of Mines at the University of Zambia (UNZA) and Copperbelt University (CBU) over a period of eight years.
Since acquiring 75 percent of Kagem in 2008, Gemfields has been meticulous in declaring revenue, which has reached approximately USD 701.4 million from the sale of emeralds at auctions both locally and internationally, and which are overseen by representatives from the Ministry of Mines and Zambia Revenue Authority (ZRA). Proceeds from the auctions are repatriated to Zambia, generating valuable foreign exchange for the nation.
Kagem has contributed approximately USD 122.9 million to the Zambian government in cumulative corporation taxes, mineral royalties, export duty and dividends. This means that around 18 percent of Kagem's revenues have flowed to the Zambian government.
Kagem currently provides more than 1,100 direct jobs.

About Kagem Mining
Kagem Mining Ltd, based in Lufwanyama, is believed to be the world's single largest producing emerald mine. Kagem is 75% owned by Gemfields, in a model partnership with the Zambian government.
Kagem aims to emulate the values of Gemfields and operate in a way that contributes positively to the national economy, while taking a leading role in modernising the coloured gemstone sector and building sustainable livelihoods for the communities around the mine. Kagem believes that coloured gemstones should be mined and marketed by championing three key values – transparency, legitimacy and integrity.
Gemfields is a world-leading supplier of responsibly sourced coloured gemstones. In addition to Kagem, Gemfields is the operator and 75% owner of Montepuez Ruby Mining in Mozambique (at one of the most significant recently discovered ruby deposits in the world), as well as bulk sampling licences in Ethiopia, amongst others. 
Gemfields has developed a proprietary grading system and a pioneering auction and trading platform to provide a consistent supply of coloured gemstones to the global jewellery market.
Fabergé – an iconic name with an exceptional heritage – is a member of the Gemfields Group. This enables Gemfields to improve its positioning, perception and consumer awareness of responsibly sourced coloured gemstones through the beauty of design and craftsmanship. 
Gemfields' responsibly sourced gemstones are the preferred choice for show pieces created by many world-renowned luxury houses and cutting-edge designers.
Gemfields: Gemfields.com | Investors | Instagram | Facebook | Twitter | YouTube
Fabergé: Fabergé.com | Instagram | Facebook | Twitter | YouTube
Kagem Mining: LinkedIn
Montepuez Ruby Mining: LinkedIn