FOR IMMEDIATE RELEASE
WITH PICTURE
FEBRUARY 18, 2022


Kagem supports the Lumpuma Multi-Purpose Cooperative Society – a new farming initiative for local youth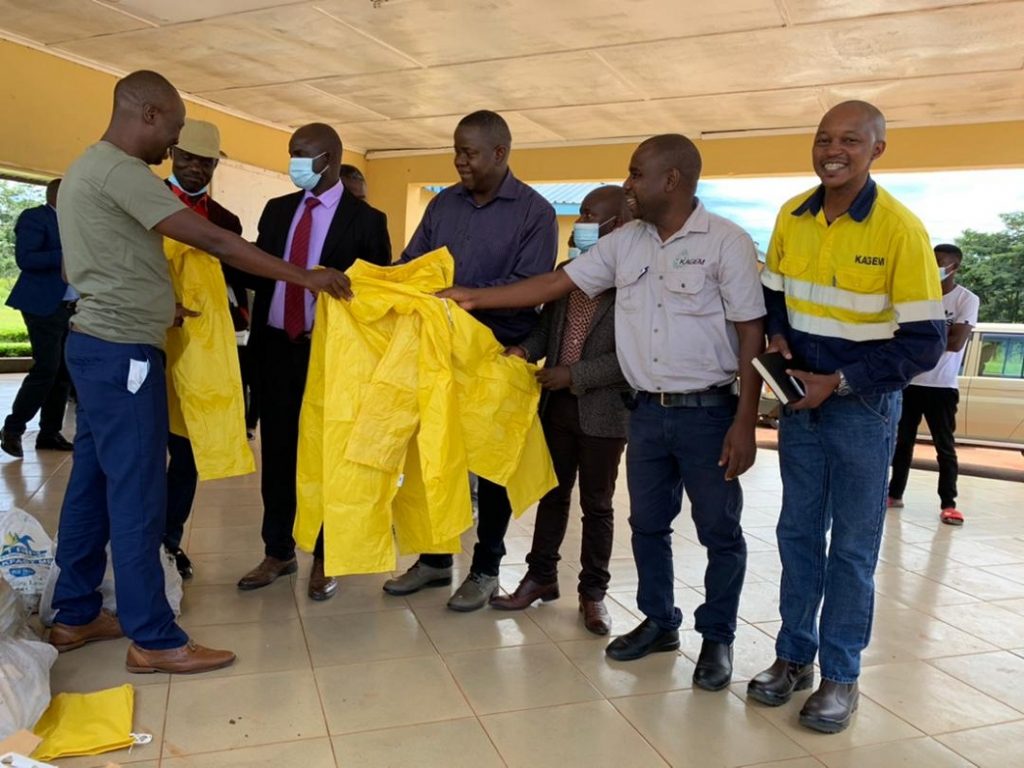 LUFWANYAMA, ZAMBIA – Kagem Mining Limited (Kagem), which operates the largest emerald mine in the world, in Lufwanyama District of the Copperbelt Province in Zambia, has backed a new farming co-operative providing local youth an alternative to illegal mining on the dumps of the neighbouring mines.
On Thursday 10 February 2022, the Lumpuma Multi-Purpose Cooperative Society (LMPCS) was officially launched by District Commissioner Justine Mwalikwa in the presence of Lufwanyama Constituency MP Hon. Kenneth Siachisumo, representatives of His Royal Highness Chief Lumpuma, Council representatives, members of Kagem senior management, heads of Government departments and representatives from the LMPCS executive committee.
The project is the fifth farming initiative by Kagem to empower local communities to engage in livelihoods programmes, in addition to education and health projects supporting the communities around the mine.
The USD 220,000 funding for the project will be provided by the mine and the Gemfields Foundation, the charitable arm of London-based Gemfields, which owns 75% of Kagem in partnership with the Industrial Development Corporation (IDC), which holds 25% on behalf of the Zambian Government.
"The Lumpuma Multi-Purpose Cooperative Society farming initiative is a functional and mutually beneficial partnership between Lufwanyama Community members and Kagem Mining Limited, with support from the Zambian Government. Kagem has always prided itself in being a model corporate entity which spares no effort in complementing Government efforts to bring development to the people of Zambia," said Kagem's Senior Manager – Corporate Affairs, Wesley Chibamba.
He gave particular thanks to Emerald Production Watch of Zambia (EPWOZ) and officials from the Ministry of Mines and Mineral Development for initiating the project to help mitigate illegal mining and provide an alternative source of income for young people in the district.
The project will be implemented in a phased approach. Phase 1 will be the cultivation of 5 hectares of beans and the clearing of another 95 hectares of land in readiness for the 2022/23 farming season. The committed amount for phase 1 is USD 20,000. Phase 2 will involve the cultivation of an entire 100 hectares of land with various crops with start-up funding of USD 200,000, after which the project is expected to be self-sustaining.
"This pilot phase of the project is an opportunity for the cooperative members to demonstrate their capacity to handle development initiatives. When a project succeeds, there are greater odds of other projects coming along or the expansion of the same project. So, the onus is on the youth of Lufwanyama, who will be part of this start-up phase, to prove that they can succeed at this," added Mr Chibamba.

-Ends-


CONTACT
Enquiries
Gillian Langmead
Langmead & Baker Ltd
Tel: +260 979 060705
info@langmead.com

Head office
Helena Choudhury
Head of PR and Communications
Tel: +44 (0)207 518 3420
helena.choudhury@gemfields.com


Notes to editors
Kagem responsible sourcing highlights
Kagem is committed to ensuring that the community continues to benefit positively from its operations through various sustainability programmes focused on alleviating poverty and aligned with government policies, the UN Sustainable Development Goals (SDGs) and Vision 2030
The mine has spent more than USD 2.75 million on community projects, including:

Rehabilitation of the 18.7km road connecting Chief Nkana and Chief Lumpuma's chiefdoms from Kandole to Kafwaya village in Lufwanyama district
Construction of the Nkana Health Centre
Construction and equipping of a new Chapula Secondary School
Construction of new buildings at Chapula Primary School
Building of teachers' accommodation at Kapila Community School
Support for the Blessing, Kapila Green Farms,Twende and Twasanta projects including distribution of farming inputs to Chief Lumpuma
Improvements to Chief Nkana and Chief Lumpuma's palaces
Support towards Covid-19 efforts including the donation of relief items to Nkana Health Centre and other health facilities in the Lufwanyama

Kagem's USD 345,000 industry training initiative is sponsoring 12 students from the geological and mining engineering departments at the School of Mines at the University of Zambia (UNZA) and Copperbelt University (CBU) over a period of eight years.
Kagem currently provides more than 1,100 direct jobs.
About Kagem Mining
Kagem Mining Ltd, based in Lufwanyama, is believed to be the world's single largest producing emerald mine. Kagem is 75% owned by Gemfields, in a model partnership with the Zambian government.
Kagem aims to emulate the values of Gemfields and operate in a way that contributes positively to the national economy, while taking a leading role in modernising the coloured gemstone sector and building sustainable livelihoods for the communities around the mine. Kagem believes that coloured gemstones should be mined and marketed by championing three key values – transparency, legitimacy and integrity.
Gemfields is a world-leading supplier of responsibly sourced coloured gemstones. In addition to Kagem, Gemfields is the operator and 75% owner of Montepuez Ruby Mining in Mozambique (at one of the most significant recently discovered ruby deposits in the world), as well as bulk sampling licences in Ethiopia, amongst others. 
Gemfields has developed a proprietary grading system and a pioneering auction and trading platform to provide a consistent supply of coloured gemstones to the global jewellery market.
Fabergé – an iconic name with an exceptional heritage – is a member of the Gemfields Group. This enables Gemfields to improve its positioning, perception and consumer awareness of responsibly sourced coloured gemstones through the beauty of design and craftsmanship. 
Gemfields' responsibly sourced gemstones are the preferred choice for show pieces created by many world-renowned luxury houses and cutting-edge designers.
Gemfields: Gemfields.com | Investors | Instagram | Facebook | Twitter | YouTube
Fabergé: Fabergé.com | Instagram | Facebook | Twitter | YouTube
Kagem Mining: LinkedIn
Montepuez Ruby Mining: LinkedIn