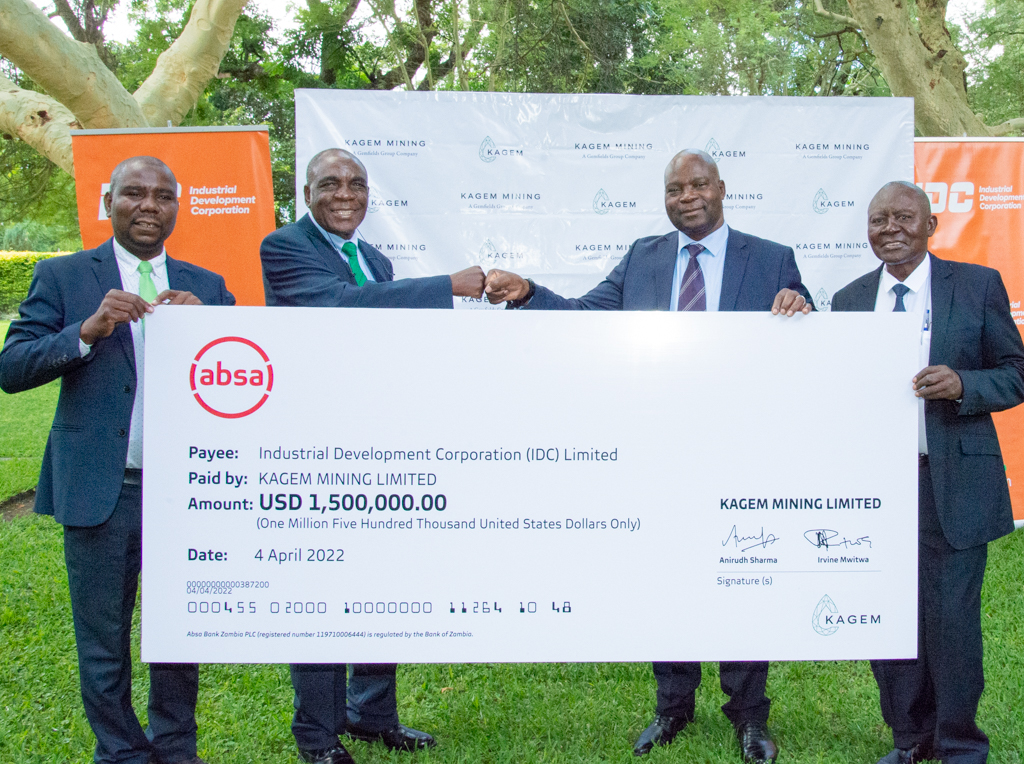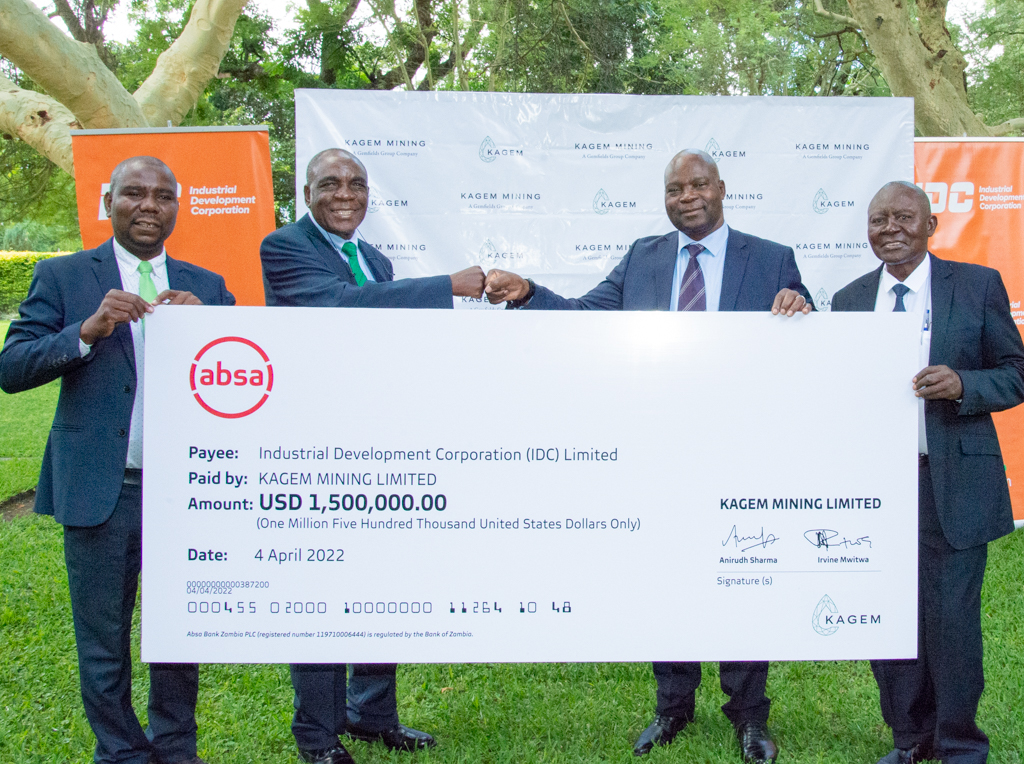 Kagem delivers US$1.5M dividend to the IDC
LUSAKA, ZAMBIA, 4 APRIL 2022
Kagem Mining Limited has delivered a USD 1.5 million dividend to the Zambian government's Industrial Development Corporation (IDC) Limited, which owns 25% of the emerald mining company in Lufwanyama.
The dividend, the first since 2016, is in addition to the USD 5.6 million mineral royalty tax paid on the sale of emeralds at auction during 2021 and the USD 11.9 million corporation tax payable for the year ended 31 December 2021.
"Kagem is pleased to deliver this dividend, which speaks to our values of transparency, legitimacy and integrity in that we strive to bring value to our host communities and governments. This is a clear demonstration of the successful model partnership between Kagem and the government through the IDC," said Kagem Board Chair, Dr Sixtus C Mulenga.
The dividend also demonstrates that Kagem has weathered the challenges of Covid-19 to deliver a record performance for 2021. Kagem was significantly affected, with a suspension on operations in place for a year from March 2020. Yet the mine protected the jobs of every employee by paying salaries to the employees and sheltering them from redundancy despite negligible revenue and zero productivity, thanks to the support from Kagem's parent company and main shareholder – Gemfields. Kagem underwent a phased resumption of operations from March 2021, with operations reaching normal capacity by the end of May 2021.
IDC Acting Group CEO Henry Sakala said: "The onset of the Covid-19 pandemic had an adverse impact on both the global and local economies across all sectors. Our country was not spared its devastating effects in terms of loss of life and the stifling of business growth. But we are glad that, in the last few months, we have adapted to the new norm it has created and are increasingly returning to normal life.
"We are all aware that Kagem was not spared. We saw a significant deterioration in the company's revenues in 2020. I am proud to note that, however, we are here today celebrating Kagem's performance as a result of the innovations the company made to get the business going despite the material changes it faced.
"The nature of your business attracts clients from across the world, which means you were one of the companies most affected by the closing border. In such a hostile environment, agility, innovation and resilience became critical to ensure the survival of business."
The newly introduced "multi-city viewing with online bidding" auction format has provided greater flexibility in the ever-changing market circumstances, explained Gemfields, which owns 75% of Kagem in partnership with the IDC.
Three emerald auctions were conducted in 2021 with the end-of-year auction setting new records for both the highest revenue and highest average price per carat achieved at any Kagem auction. The auction also saw the sale of Kagem's striking 7,525 carat "rhino emerald", known as Chipembele. Kagem was also able to supplement its 2021 revenues by expanding its direct sales programme for commercial quality gemstones in India.
Kagem generated USD 91.8 million of revenue during the year, compared with USD 22.3 million in 2020 and USD 79.0 million in 2019, making 2021 the best calendar year performance since Gemfields acquired the mine more than a decade ago in a model partnership with the government.
Kagem has attributed the stellar achievement to its team, who have enabled the mine's continued excellent production run of premium emeralds, which grew to above the levels seen pre-pandemic.

Overall production at Kagem for the year amounted to 32 million carats, almost meeting the level in 2019, of 36.3 million carats.
During 2021, Gemfields invested USD 2.3 million on upgrading mining and ancillary equipment and infrastructure improvements to ensure the mine is Covid-19 compliant. It further expects to increase the capital expenditure at Kagem to pre-pandemic levels, with a primary focus on replacement machinery and enhancing processing plant capacity.
"We extend sincere thanks to our 2,500 team members worldwide, to our host governments, to our business partners, our customers and our shareholders for their ongoing support. We look forward immensely to harnessing the opportunities and navigating the challenges in the year ahead," said Gemfields Chief Executive Officer, Sean Gilbertson.
-ENDS-
ENQUIRIES
NOTES TO EDITORS
Kagem responsible sourcing highlights
Kagem is committed to ensuring that the community continues to benefit positively from its operations through various sustainability programmes focused on alleviating poverty and aligned with government policies, the UN Sustainable Development Goals (SDGs) and Vision 2030
The mine has spent more than USD 2.8 million on community projects, including:

Rehabilitation of the 18.7km road connecting Chief Nkana and Chief Lumpuma's chiefdoms from Kandole to Kafwaya village in Lufwanyama district

Construction of the Nkana Health Centre

Construction and equipping of a new Chapula Secondary School

Construction of new buildings at Chapula Primary School

Building of teachers' accommodation at Kapila Community School

Support for the Blessing, Kapila Green Farms, Twende and Twasanta projects

Improvements to Chief Nkana and Chief Lumpuma's palaces

Kagem's USD 345,000 industry training initiative is sponsoring students from the geological and mining engineering departments at the School of Mines at the University of Zambia (UNZA) and Copperbelt University (CBU) over a period of eight years.
The 39 auctions of Kagem gemstones held since July 2009 have generated USD 749.7 million in total revenue.
Kagem currently provides 1,150 direct jobs, with 94% of the workforce being local.
About Kagem Mining
Kagem Mining Ltd, based in Lufwanyama, is believed to be the world's single largest producing emerald mine. Kagem is 75% owned by Gemfields, in a model partnership with the Zambian government.
Kagem aims to emulate the values of Gemfields and operate in a way that contributes positively to the national economy, while taking a leading role in modernising the coloured gemstone sector and building sustainable livelihoods for the communities around the mine. Kagem believes that coloured gemstones should be mined and marketed by championing three key values – transparency, legitimacy and integrity.
Gemfields is a world-leading miner of responsible coloured gemstones. In addition to Kagem, Gemfields is the operator and 75% owner of Montepuez Ruby Mining in Mozambique (at one of the most significant recently discovered ruby deposits in the world), as well as bulk sampling licences in Ethiopia, amongst others.
Gemfields has developed a proprietary grading system and a pioneering auction and trading platform to provide a consistent supply of coloured gemstones to the global jewellery market.
Fabergé – an iconic name with an exceptional heritage – is a member of the Gemfields Group. The beauty of Fabergé's designs and craftsmanship, helps to raise consumer awareness of responsibly sourced coloured gemstones.
As well as supplying a significant share of the world's rough rubies and emeralds, Gemfields initiates activations to build desire for coloured gemstones: for example, collaborations with international jewellery brands and other creative partners. Often surprising, unexpected and unique, these collaborations are chosen to promote consumer awareness and increase the appeal of coloured gemstones, raising their profile, and, in turn, providing greater benefit to their place of origin in Africa.
GEMFIELDS
GEMFIELDS.COM | INVESTORS |FOUNDATION
INSTAGRAM | FACEBOOK | TWITTER | YOUTUBE
FABERGÉ
FABERGÉ.COM | INSTAGRAM | FACEBOOK | TWITTER | YOUTUBE
KAGEM MINING LINKEDIN
MONTEPUEZ RUBY MINING LINKEDIN