FOR IMMEDIATE RELEASE
WITH PICTURE
JUNE 8, 2022


Kagem renews UNZA partnership with USD172,500 scholarship programme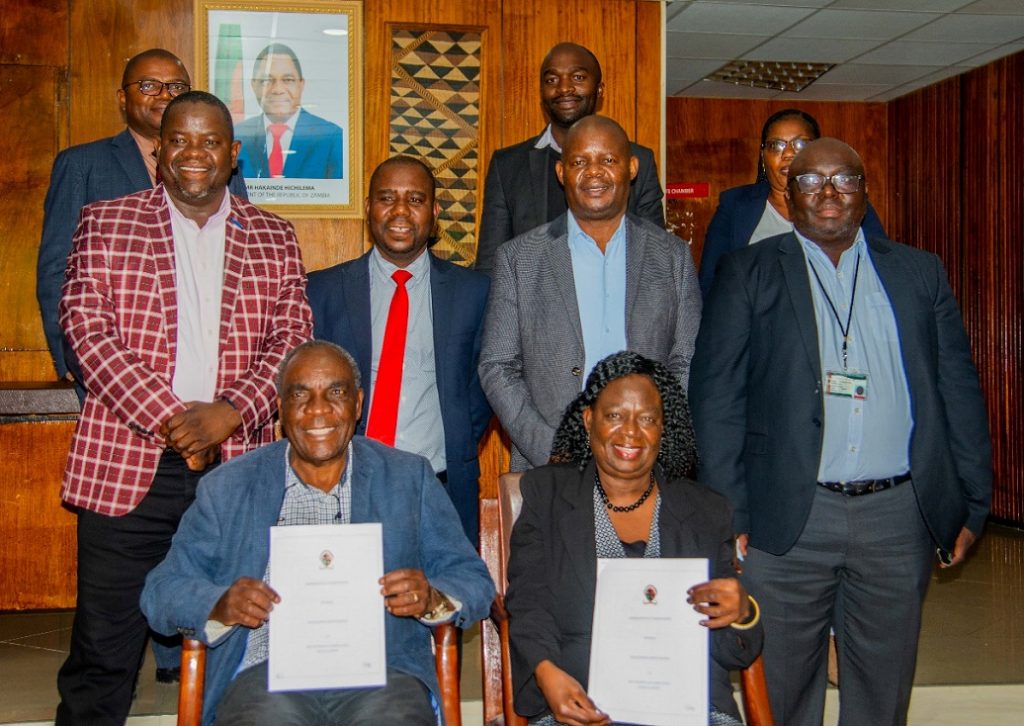 LUSAKA, ZAMBIA – Kagem Mining Ltd has committed USD172,500 worth of funding for scholarships for University of Zambia (UNZA) mining and geology students following its renewal of a memorandum of understanding (MoU) with the university.

The MoU intends to enhance the emerald mine's commitment to collaborating with educational institutions on matters related to training, research, and human resource development in the mining sector.

Present at the MoU signing ceremony was UNZA Acting Vice Chancellor Prof. Anne Sikwibele, who hailed the gesture saying it demonstrated Kagem's dedication to facilitating local participation in the mining sector.

"The renewed financing from Kagem is also a demonstration of our strong partnership aimed at providing excellent opportunities to expose students to the industry work culture. In this way, we can be sure that when students graduate, they are better prepared to start working at mining companies," said Prof. Sikwibele.

The Acting VC thanked the Lufwanyama-based mine for its desire to work with the university and urged the School of Mines to derive other benefits from the MoU that would see innovative development for the gemstone sector.

Kagem Board Chairman Dr Sixtus Mulenga noted the scarcity of mining engineers and geologists in the country and hoped the scholarship programme would encourage local young people to take on careers in the two fields.

"The mine is working on a plan to develop a state-of-the-art vocational training institution in Lufwanyama where we will be able to develop hands-on skills for local young people. It is against that background that we, as a board, decided to extend the MoU," he added.

The chairman said that Kagem hopes to partner with UNZA and use the university's facilities to conduct research in geology mining that would help the mine's team of experts find solutions to some of its existing problems.

Dr Mulenga went on to urge UNZA students to apply for industrial attachments at the emerald mine to gain experience that would aid them when they join the industry.

Meanwhile, UNZA School of Mines Head of Department Dr Kawawa Banda shared his hope that the partnership will expand to academic staff, allowing them to offer the mine their expertise in mining engineering.

Kagem first partnered with UNZA in 2015, which culminated in a scholarship programme that ran until earlier this year, seeing some sponsored students also gain employment at Kagem upon their graduation.

-ENDS-


CONTACT
Enquiries
Gillian Langmead
Langmead & Baker Ltd
Tel: +260 979 060705
info@langmead.com

Head office
Helena Choudhury
Head of PR and Communications
Tel: +44 (0)207 518 3420
helena.choudhury@gemfields.com

Kagem responsible sourcing highlights
Kagem is committed to ensuring that the community continues to benefit positively from its operations through various sustainability programmes focused on alleviating poverty and aligned with government policies, the UN Sustainable Development Goals (SDGs) and Vision 2030
The mine has spent more than USD 2.8 million on community projects, including:

Rehabilitation of the 18.7km road connecting Chief Nkana and Chief Lumpuma's chiefdoms from Kandole to Kafwaya village in Lufwanyama district
Construction of the Nkana Health Centre
Construction and equipping of a new Chapula Secondary School
Construction of new buildings at Chapula Primary School
Building of teachers' accommodation at Kapila Community School
Support for the Blessing, Kapila Green Farms,Twende and Twasanta projects
Improvements to Chief Nkana and Chief Lumpuma's palaces

Kagem has renewed its partnership with the University of Zambia (UNZA), committing to a new USD 172,500 scholarship programme which follows the previous commitment of USD 345,000 to sponsor students from the geological and mining engineering departments at the School of Mines at UNZA and Copperbelt University (CBU) over a period of eight years.
Kagem has pledged USD 220,000 to support the Lumpuma Multi-Purpose Cooperative Society farming initiative.
Kagem currently provides 1,150 direct jobs, with 94% of the workforce being local.

About Kagem Mining
Kagem Mining Ltd, based in Lufwanyama, is believed to be the world's single largest producing emerald mine. Kagem is 75% owned by Gemfields, in a model partnership with the Zambian government.
Kagem aims to emulate the values of Gemfields and operate in a way that contributes positively to the national economy, while taking a leading role in modernising the coloured gemstone sector and building sustainable livelihoods for the communities around the mine. Kagem believes that coloured gemstones should be mined and marketed by championing three key values –  transparency, legitimacy and integrity.
Gemfields is a world-leading miner of responsible coloured gemstones. In addition to Kagem, Gemfields is the operator and 75% owner of Montepuez Ruby Mining in Mozambique (at one of the most significant recently discovered ruby deposits in the world), as well as bulk sampling licences in Ethiopia, amongst others. 
Gemfields has developed a proprietary grading system and a pioneering auction and trading platform to provide a consistent supply of coloured gemstones to the global jewellery market.
Fabergé – an iconic name with an exceptional heritage – is a member of the Gemfields Group. The beauty of Fabergé's designs and craftsmanship, helps to raise consumer awareness of responsibly sourced coloured gemstones.
As well as supplying a significant share of the world's rough rubies and emeralds, Gemfields initiates activations to build desire for coloured gemstones: for example, collaborations with international jewellery brands and other creative partners. Often surprising, unexpected and unique, these collaborations are chosen to promote consumer awareness and increase the appeal of coloured gemstones, raising their profile, and, in turn, providing greater benefit to their place of origin in Africa.
Gemfields: Gemfields.com | Investors | Instagram | Facebook | Twitter | YouTube
Fabergé: Fabergé.com | Instagram | Facebook | Twitter | YouTube
Kagem Mining: LinkedIn
Montepuez Ruby Mining: LinkedIn