FOR IMMEDIATE RELEASE
WITH PICTURE
21 FEBRUARY, 2023

Kagem continues to spearhead transparency on tax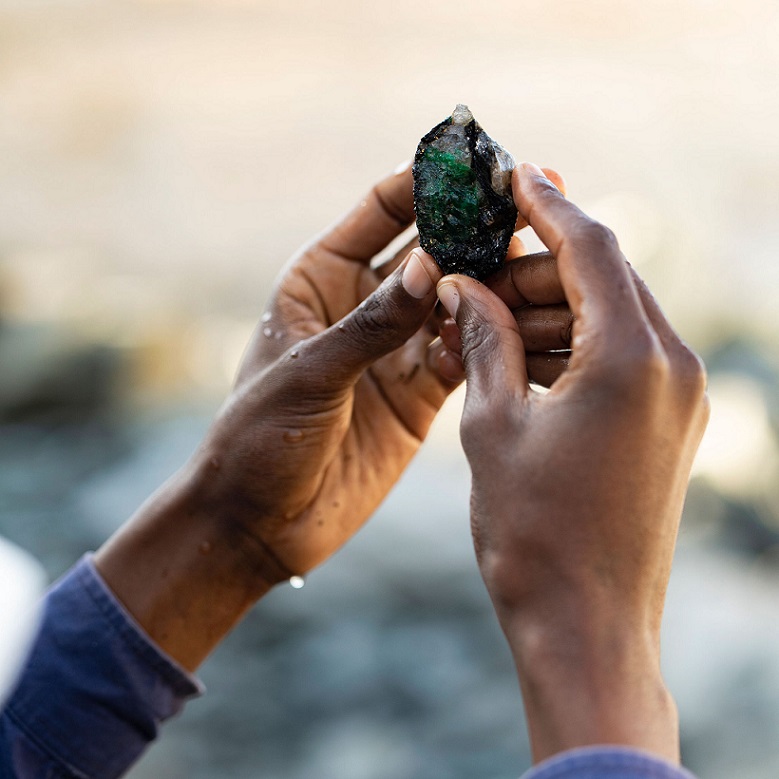 LUFWANYAMA, ZAMBIA – Gemfields, which operates the Kagem emerald mine in Lufwanyama, has announced updated figures to the end of December 2022 for the 'G-Factor for Natural Resources', a measure promoting greater transparency regarding the level of natural resource wealth shared with the governments of host countries, whether from the mining, oil, gas, timber or fishing sectors, launched in July 2021. 

Gemfields once again invites governance bodies, mining organisations, industry observers and host governments to adopt the G-Factor for Natural Resources in order to improve transparency when it comes to the share of natural resource wealth paid to a host country's government. 
The G-Factor for Natural Resources is intended to be an uncomplicated indicator of the percentage of a natural resource company's revenue that is paid to the host country government in primary and direct taxes, plus – where the host government is a shareholder – dividends. As such, it is an indicator of the share of natural resource wealth paid to a host country's government. The G-Factor for Natural Resources takes its name from the "g's" in "government", "governance" and "good practice".
"Given the evolution of resource nationalism on the one hand, and increasing strategic competition by companies and states for access to resources on the other, it seems to us that a practical measure allowing more direct comparison of the sharing of natural resource wealth would assist greatly in identifying responsible custodians of host nations' resources. We hope the G-Factor for Natural Resources will be voluntarily adopted by other companies, insisted upon by host governments and incorporated into projects such as EITI" said Sean Gilbertson, Kagem and Gemfields CEO.
G-Factor for Natural Resources computations for Kagem emerald mine in Zambia, which is 75% owned by Gemfields and 25% by the Zambian Government's Industrial Development Corporation, is set out below:
| | | | | |
| --- | --- | --- | --- | --- |
| Kagem Mining Limited (Zambia), USD million  | G-Factor (1 Year) 2022  | G-Factor (5 Years) 2018-2022  | G-Factor (10 Years) 2013-2022  | G-Factor (since Gemfields acquired 75%) 2008-2022  |
| Mineral Royalties Paid | 11.5 | 25.3 | 50.9 | 56.4 |
| Corporation Tax Paid | 13.3 | 25.0 | 72.4 | 81.5 |
| (C) Dividends to Government (if applicable) | 1.5 | 1.5 | 14.0 | 14.0 |
| (D) Total Revenue | 153.3 | 421.3 | 726.3 | 872.3 |
| G-Factor, being (A+B+C)/D  | 17%  | 12%  | 19%  | 17%  |
| NOTES: All figures for 2022 are unaudited.  | | | | Gemfields acquired a 75% interest in Kagem in 2008. |
-Ends-



CONTACT
Enquiries
Gillian Langmead
Langmead & Baker Ltd
Tel: +260 979 060705
info@langmead.com

Head office
Helena Choudhury
Head of PR and Communications
Tel: +44 (0)207 518 3420
helena.choudhury@gemfields.com

Kagem responsible sourcing highlights
Kagem is committed to ensuring that the community continues to benefit positively from its operations through various community projects focused on alleviating poverty and aligned with government policies, the UN Sustainable Development Goals (SDGs) and Vision 2030.
The mine has spent more than USD 2.8 million on community projects, including:

Rehabilitation of the 18.7km road connecting Chief Nkana and Chief Lumpuma's chiefdoms from Kandole to Kafwaya village in Lufwanyama district
Construction of the Nkana Health Centre
Construction and equipping of a new Chapula Secondary School
Construction of new buildings at Chapula Primary School
Building of teachers' accommodation at Kapila Primary School
Construction of new buildings at Masasa Primary School
Support for the Blessings, Kafwaya, Kapila Green Farms, Nkana, Matafwali, Tweende and Twasanta farming associations
Improvements to Chief Nkana and Chief Lumpuma's palaces

Pledge of USD 220,000 to support Lumpuma Multi-Purpose Cooperative Society farming initiative.
Kagem has renewed its support for the Zambian Carnivore Programme (ZCP) providing USD 250,000 over a five-year partnership. This follows its previous commitment of USD 150,000 over three years. Additional conservation support includes a one-off donation of USD 70,000 to the North Luangwa Conservation Programme (NLCP).
Kagem has renewed its partnership with both the Copperbelt University (CBU) and the University of Zambia (UNZA), committing to new scholarship programmes totalling USD 345,000. This follows the previous commitment of USD 345,000 to sponsor students from the geological and mining engineering departments at the School of Mines at UNZA and CBU over a period of eight years.
Kagem currently provides more than 1,250 direct jobs, with 93% of the workforce coming from local communities.
About Kagem Mining
Kagem Mining Ltd, based in Lufwanyama, is believed to be the world's single largest producing emerald mine. Kagem is 75% owned by Gemfields, in a model partnership with the Zambian government.
Kagem aims to emulate the values of Gemfields and operate in a way that contributes positively to the national economy, while taking a leading role in modernising the coloured gemstone sector and building sustainable livelihoods for the communities around the mine. Kagem believes that coloured gemstones should be mined and marketed by championing three key values – transparency, legitimacy and integrity.
Gemfields is a world-leading miner and marketer of responsibly sourced coloured gemstones. In addition to Kagem, Gemfields is the operator and 75% owner of Montepuez Ruby Mining in Mozambique (at one of the most significant recently discovered ruby deposits in the world), as well as bulk sampling licences in Ethiopia, amongst others.
Gemfields has developed a proprietary grading system and a pioneering auction and trading platform to provide a consistent supply of coloured gemstones to the global jewellery market.
Fabergé – an iconic name with an exceptional heritage – is a member of the Gemfields Group. The beauty of Fabergé's designs and craftsmanship, helps to raise consumer awareness of responsibly sourced coloured gemstones.
As well as supplying a significant share of the world's rough rubies and emeralds, Gemfields initiates activations to build desire for coloured gemstones: for example, collaborations with international jewellery brands and other creative partners. Often surprising, unexpected and unique, these collaborations are chosen to promote consumer awareness and increase the appeal of coloured gemstones, raising their profile, and, in turn, providing greater benefit to their place of origin in Africa.

GEMFIELDS GEMFIELDS.COM | INVESTORS |FOUNDATION| INSTAGRAM | FACEBOOK | TWITTER | YOUTUBE
FABERGÉ FABERGÉ.COM | INSTAGRAM | FACEBOOK | TWITTER | YOUTUBE
KAGEM MINING LINKEDIN
MONTEPUEZ RUBY MINING LINKEDIN