FOR IMMEDIATE RELEASE
WITH PICTURE

Kagem Hosts Visit by UK Prime Minister's Trade Envoy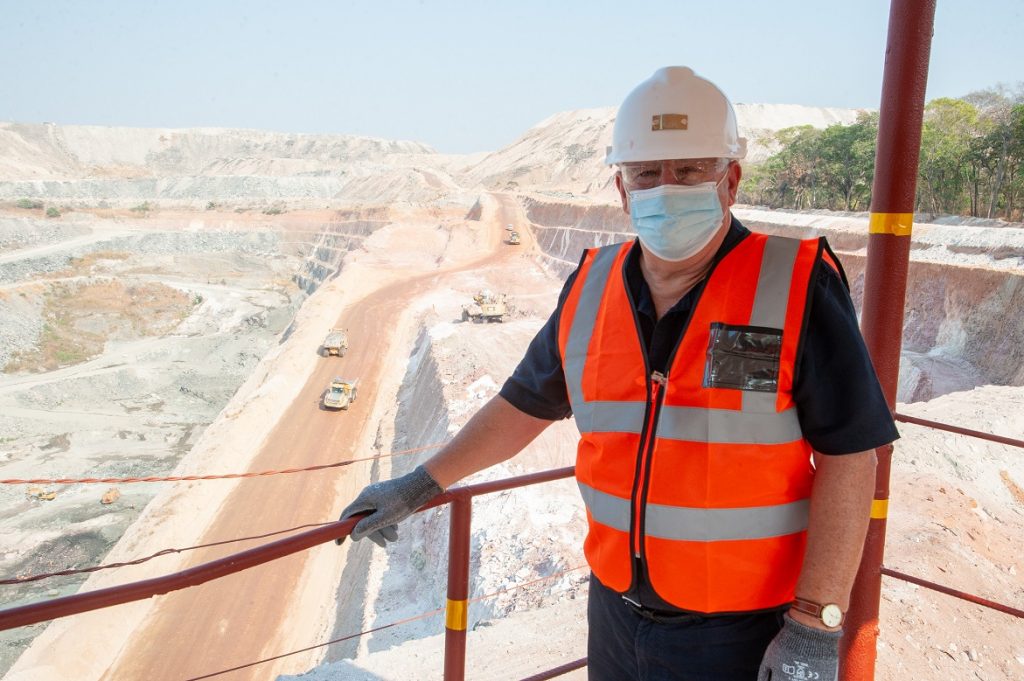 ZAMBIA – 21 OCTOBER 2021 – On Friday 15 October 2021, the Kagem emerald mine in Lufwanyama hosted a delegation led by the UK Prime Minister's Trade Envoy to Angola and Zambia, Mr Laurence Robertson MP. Mr Robertson was accompanied by the British High Commissioner to Zambia, Mr Nicholas Woolley, in addition to dignitaries from both the British High Commission to Zambia and the UK's Foreign, Commonwealth and Development Office.
The Kagem mine in Lufwanyama – which is owned by Gemfields in partnership with the Zambian Government through the Industrial Development Corporation (IDC) – is the world's largest emerald producer.
Gemfields acquired 75% of Kagem in July 2008, at which point Kagem's revenues were just USD 8 million per annum. A policy of transparency was adopted and, following significant investment and repatriation of full gemstone auction revenues to Zambia, Kagem's annual turnover grew to around USD 80 million, a ten-fold increase. Since 2008, Kagem has achieved cumulative revenues of USD 701 million, all of which has been fully repatriated to Kagem in Zambia. This means Zambia saw the full international value of its emeralds delivered directly into Zambia. During that time, Kagem has paid approximately USD 123 million to the Government of the Republic of Zambia in the form of corporation tax, mineral royalty and dividends, equivalent to 18% of the total revenue. Speaking during the visit, Gemfields and Kagem Chief Executive, Sean Gilbertson, said, "With the exception of Kagem's sister mine in Mozambique – the Montepuez ruby mine – Gemfields is not aware of any other instance in human history where a host-government has benefitted from its coloured gemstone resources on this scale, either in monetary or percentage terms."
Mr Robertson said he was impressed with the expenditure the mine has undertaken to improve the livelihoods of people in surrounding communities: "Emeralds are one of the products for which Zambia is world-famous. I think it's very important to keep trading on that. And not just for the sake of producing the product, but more importantly, for the sake of Zambians whose livelihoods are enhanced as a result of skills learned, incomes earned and wider economic gains arising from taxes paid by mining companies such as Gemfields. When we were driving here, we noticed that many of the schools were created or sponsored by mining companies. It is very important that every business looks after its environment and its community and this company is doing it."
Commenting on the visit to Kagem, Mr Woolley said: "It's a hugely impressive operation from an investment point of view. It has managed to increase its employment by 200 percent despite Covid-19 with its direct employees all receiving pensionable earnings. It has increased its revenues over the years from USD 8 million to USD 80 million. This benefits Zambians, it benefits the local communities and it benefits employment and livelihoods here."
Mr Gilbertson added "A decade ago, Zambia was the world's third largest emerald producer, behind Colombia and Brazil. Today, Zambia is the number one producer and must remain a competitive, secure and reliable source in order to further enhance its leadership position. The entire planet is moving toward a new era of transparency. This should be embraced and initiatives like EITI and The G-Factor for Natural Resources should be widely adopted. We welcome GRZ involvement and monitoring in gemstone mining and sales: the more data that can be made public about gemstone production, revenues and taxes, the better. We had the privilege of visiting a number of ministers in the new Government last week. We were extremely impressed with the seriousness of the approach toward business as a key to fostering economic growth, employment and debt reduction. Everybody has been clear that sensible and consistent policy, including in relation to foreign investment and taxation, is core to the future success of Zambia."
–ENDS-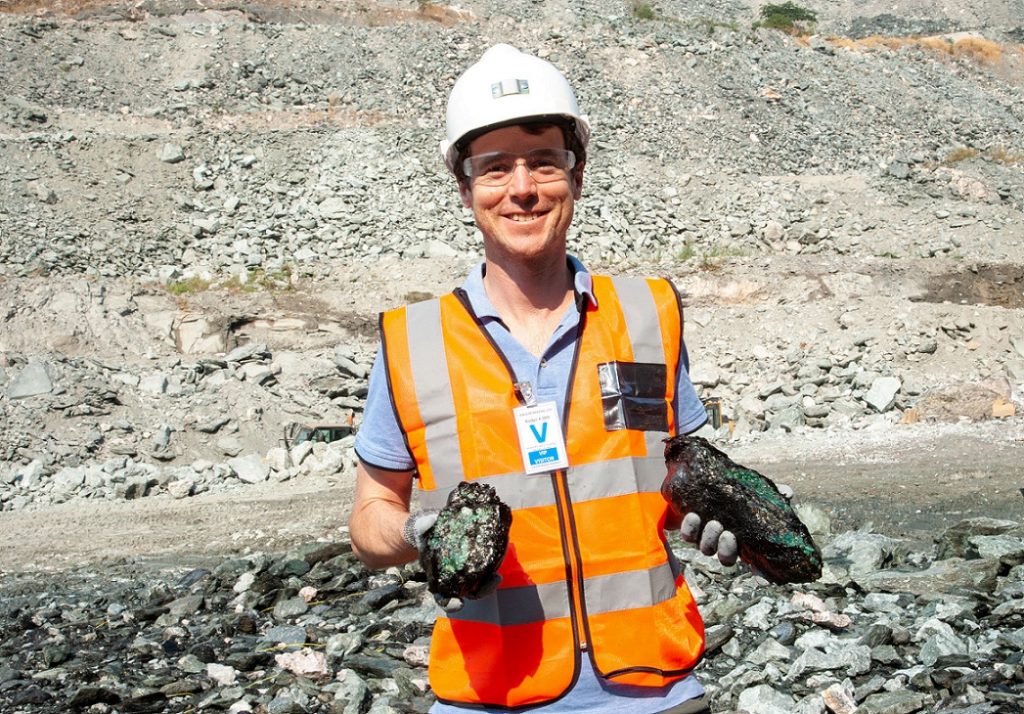 CONTACT
Enquiries
Gillian Langmead
Langmead & Baker Ltd
Tel: +260 979 060705
info@langmead.com

Head office
Helena Choudhury
Head of PR and Communications
Tel: +44 (0)207 518 3420
helena.choudhury@gemfields.com


Notes to Editors

Kagem responsible sourcing highlights
Kagem is committed to ensuring that the community continues to benefit positively from its operations through various sustainability programmes focused on alleviating poverty and aligned with government policies, the UN Sustainable Development Goals (SDGs) and Vision 2030
The mine has spent more than USD 2.75 million on community projects, including:

Rehabilitation of the 18.7 km road connecting Chief Nkana and Chief Lumpuma's chiefdoms from Kandole to Kafwaya village in Lufwanyama district

Construction of the Nkana Health Centre

Construction and equipping of a new Chapula Secondary School

Construction of new buildings at Chapula Primary School

Building of teachers' accommodation at Kapila Community School

Support for the Blessing, Kapila Green Farms,Twende and Twasanta projects including distribution of farming inputs to Chief Lumpuma

Improvements to Chief Nkana and Chief Lumpuma's palaces

Support towards Covid-19 efforts including the donation of relief items to Nkana Health Centre and other health facilities in the Lufwanyama

Kagem's USD 345,000 industry training initiative is sponsoring 12 students from the geological and mining engineering departments at the School of Mines at the University of Zambia (UNZA) and Copperbelt University (CBU) over a period of eight years.
Since acquiring 75 percent of Kagem in 2008, Gemfields has been meticulous in declaring revenue, which has reached approximately USD 701.4 million from the sale of emeralds at auctions both locally and internationally, and which are overseen by representatives from the Ministry of Mines and Zambia Revenue Authority (ZRA). Proceeds from the auctions are repatriated to Zambia, generating valuable foreign exchange for the nation.
Kagem has contributed approximately USD 122.9 million to the Zambian government in cumulative corporation taxes, mineral royalties, export duty and dividends. This means that around 18 percent of Kagem's revenues have flowed to the Zambian government.
Kagem currently provides more than 1,100 direct jobs.
About Kagem Mining
Kagem Mining Ltd, based in Lufwanyama, is believed to be the world's single largest producing emerald mine. Kagem is 75% owned by Gemfields, in a model partnership with the Zambian government.
Kagem aims to emulate the values of Gemfields and operate in a way that contributes positively to the national economy, while taking a leading role in modernising the coloured gemstone sector and building sustainable livelihoods for the communities around the mine. Kagem believes that coloured gemstones should be mined and marketed by championing three key values – transparency, legitimacy and integrity.
Gemfields is a world-leading supplier of responsibly sourced coloured gemstones. In addition to Kagem, Gemfields is the operator and 75% owner of Montepuez Ruby Mining in Mozambique (at one of the most significant recently discovered ruby deposits in the world), as well as bulk sampling licences in Ethiopia, amongst others.
Gemfields has developed a proprietary grading system and a pioneering auction and trading platform to provide a consistent supply of coloured gemstones to the global jewellery market.
Fabergé – an iconic name with an exceptional heritage – is a member of the Gemfields Group. This enables Gemfields to improve its positioning, perception and consumer awareness of responsibly sourced coloured gemstones through the beauty of design and craftsmanship.
Gemfields' responsibly sourced gemstones are the preferred choice for show pieces created by many world-renowned luxury houses and cutting-edge designers.

Gemfields: Gemfields.com | Investors | Instagram | Facebook | Twitter | YouTube
Fabergé: Fabergé.com | Instagram | Facebook | Twitter | YouTube
Kagem Mining: LinkedIn
Montepuez Ruby Mining: LinkedIn